Flexible working conditions essential for a gender-balanced future
Published: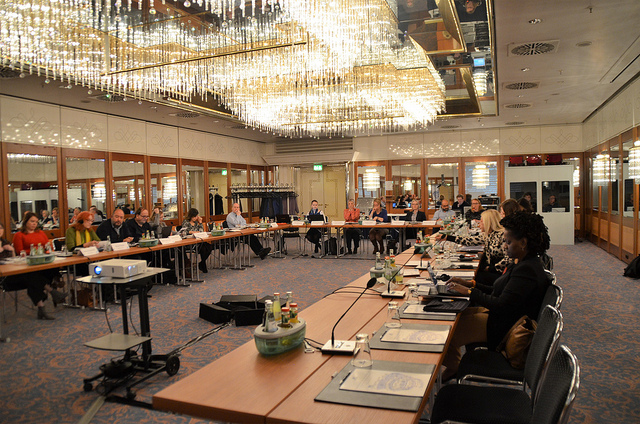 Education trade unions should raise awareness about the interconnection between the work-life balance arrangements and gender pay and pension gaps and promote working time models which cater for teachers at different stages of their lives. This conclusion was reached by the participants of the final regional seminar of the ETUCE project Social dialogue and gender equality: Empowering education trade unions to address gender equality in the teaching profession through social dialogue, which took place in Munich on 28-29 March 2019.
More than 25 participants, representing Austria, Cyprus, Denmark, Finland, Germany, Greece, Ireland, Spain, the Netherlands and the United Kingdom had the opportunity to exchange with fellow trade unionists on pertinent matters of gender equality such as horizontal and vertical segregation in the education sector, work-life balance challenges, and gender pay and pension gaps in the teaching profession through a mixture of panel discussions, presentations, working groups and practical exercises. Participants provided examples of actions undertaken within their respective unions to address gender inequality, such as establishing a gender equality department within trade unions, engaging staff dedicated to gender equality policy, introducing quotas to ensure greater representation of women in decision-making positions, and setting up a women's organising forum to promote female engagement in the union. Likewise, participants collaborated to come up with inspiring action plan measures, including the provision of gender-blind leadership courses, organising awareness-raising campaigns to highlight the harm gender stereotypes do to students and teachers in terms of career paths and domestic and caring duties, and introducing working-time models adapted to different stages of life.
Based on the project's online survey which was conducted among ETUCE members, project researcher, Inga Pavlovaite, reported that only 60% of trade unions have a department or individuals dealing specifically with gender equality issues and that just 40% indicated they had internal gender equality polices in place. Héctor Cebolla Boado, Research expert of Population Europe, Max Planck Institute for Demographic Research, spoke about the feminisation of the teaching profession and showed that economic governance has a strong impact on gender equality in the education sector while there is no difference in self-efficacy between the genders.
Specific challenges facing educators in the German education system were presented by local expert Hildegund Rüger, President of The Bavarian State Women's Council, and representatives of German education trade unions GEW and VBE, which included the struggle to break down traditional gender roles, high numbers of female teachers working part-time, the lack of care services provided by the state, and the underestimation of primary and early childhood education.
Concluding the workshop, Trudy Kerperien, Vice President of ETUCE, stated: "In order to change mentalities, society needs to rethink what attributes make a good leader and to move away from typical masculine characteristics. Allowing leaders to job-share would also relieve the work-life balance burden and encourage more women pursue management roles."
To conclude this two-year-long project, a final Conference is to be held in Bucharest on 16-17 September 2019, during which an online database of based practices is to be launched and the ETUCE Action Plan on Gender quality is to be discussed.